Director of Training & Communication, PeopleKeys, Inc.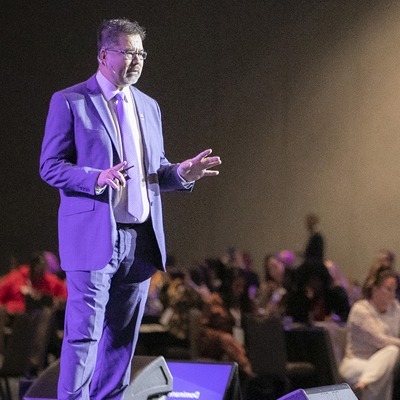 There's no one in the world quite like John Schindell. Combining decades of experience and education into an almost superhero-like level of understanding regarding human behavior, John has a knack for being able to zero in on what makes you, you. He has a way of speaking so each audience member leaves with incredible insights into their own behavior, and he can help them use this knowledge to understand the people around them. In essence, John can get an audience to feel like they were not only entertained, but so they understand people's personalities, can identify them, and know how to enhance their interpersonal relationships. He can help the audience to unlock their people potential and improve their lives.
John is a highly sought-after keynote speaker, and a leading authority on human behavior and personality. Slots fill up fast, but you can contact PeopleKeys for more information on how to book John to take your event to the next level.
What can John help your group with?
Improve communication
Strengthen relationships
Increase motivation and productivity
Avoid misunderstanding and resolve conflict
No matter what size group you've got, John can help. His diverse skill set and decades of experience in the communications, marketing, and business sectors supplement his years of experience working with human behavioral analysis and personality assessment. John knows people, and he knows how to improve their work and personal lives.