DISC Solutions for Students
Great for students of all levels, the StudentKeys DISC assessment program is proven to have a positive impact on academic performance, and gives students the tools they need to become better thinkers and learners. 
Help your students succeed in school and beyond! The StudentKeys system is available in a binder format with six printed workbooks and short, self-scoring assessments that students can complete, along with a leader's guidebook for educators. The Student Strengths report contains four powerful assessments in one to give students insight into how they communicate, learn, think, and make decisions. The Scholastic Success Report contains three reports: one for the student, one for the tutor or educator, and one for the parent(s).
DISC Helps Students Better Understand Themselves
StudentKeys contains a series of short, accurate, self-scoring assessments designed to identify and enhance communication, learning, motivation, and career choices in students. It is a simple, yet profound program focusing upon personal "strengths" that applies the information to everyday communicating and learning situations.
The StudentKeys system binder or Student Strengths online report assist to academically and socially integrate students in their first year of college by helping them identify and enhance their learning and communication styles.
High school counselors and educators can utilize the short, accurate assessments in the StudentKeys program binder or Student Strengths online report to identify a student's natural learning, thinking, values, and strengths. The majority of students find the information they learn about themselves to be eye-opening.
Home educators can use StudentKeys assessments as a springboard for career planning. The information revealed about a student's unique communication and values style could help a student decide more realistically about a career path.
Many colleges and universities, as well as corporations, are embracing "strengths" as a concept to fuel "ownership" of individual and corporate success. The emphasis in many institutions today is to identify student and employee "strengths" then give individuals opportunities to confirm their strengths through work or class endeavors. This innovative approach to empowering people is commonly called a "strength-based" approach.
The program has six components vital to a student's life: Personality Styles (communication preferences), Perceptual Styles (learning preferences), Cognitive Styles (thinking preferences), Values Styles (motivational preferences), Occupational Choices (based upon personality preferences), and Goal Setting (using all preferences to set goals). Five of the workbooks include short assessments that identify the individual's "style" and how he/she can maximize strengths and appreciate limits. The six workbooks are available separately or as a complete package.
Personality Style Workbook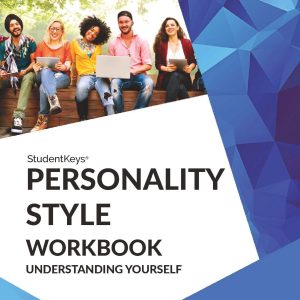 The Personality Style Workbook guides students in identifying their Personality Style (D,I,S,C), their strengths, limitations, and motivations. It also helps them gain an appreciation for diversity so they may relate better with professors, roommates, and friends.
Perceptual Learning Style Workbook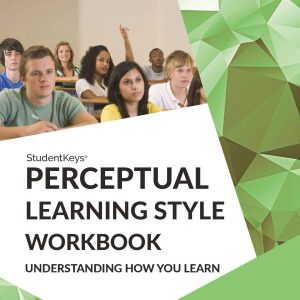 The Perceptual Learning Style Workbook identifies the student's Perceptual Style and allows students and teachers to understand the ways in which they best perceive information through their senses (auditory, visual, and kinesthetic) so that they may learn more effectively.
Cognitive Thinking Style Workbook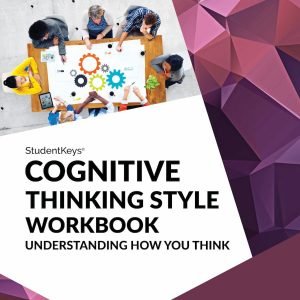 The Cognitive Thinking Style Workbook explains the different ways in which students absorb information and process that information. By identifying and understanding their Cognitive Style (literal, intuitive, theoretical, and experiential) students may enhance their learning experiences.
Values Style Workbook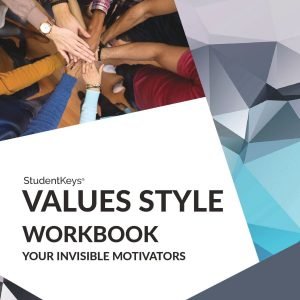 The Values Style Workbook points out internal motivators that students use to make decisions. By identifying Values Styles (loyalty, equality, personal freedom, and justice) students can see how their values impact their personal and professional choices.
Career Choice Workbook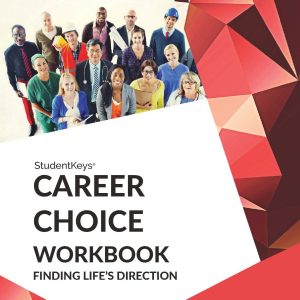 By applying information from the Personality Style Workbook, the Career Choice Workbook matches suggested careers with the student's style. Students can discover how their style is typically most fulfilled in an occupation.
Goal Setting Workbook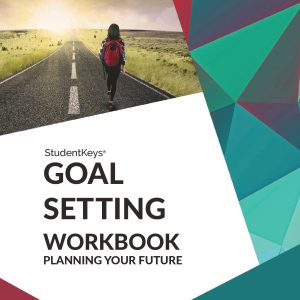 The Goal Setting Workbook identifies the need to set realistic goals. It begins a process by which a student can set goals pertaining to education, career, and personal development. No style is identified in this book; instead the student is responsible for creating his/her own goal plan












Help Your Students Succeed
Understanding children's and students' personalities are the keys to creating favorable environments where each child can learn, achieve scholastic success, thrive, and prepare for their future in the best way. Get to know the StudentKeys system – a dedicated system developed by PeopleKeys to make a difference in the lives of your students.
Student Strengths Online Report
The StudentKeys: Student Strengths report is an online version of the StudentKeys program, containing four short online assessments: DISC Personality Style, Perceptual Learning Style, Cognitive Thinking Style, and Values Styles. An online DISC Career Report is also available separately for purchase based on the DISC Personality Style assessment.
Scholastic Success Report
Originally developed and validated for use in supplemental learning centers, the Scholastic Success report helps get students ages 9 and up, parents or guardians, and educators or tutors in sync for understanding how to speak a student's DISC language and develop a customized learning environment for the student. This report is great for standard educators, homeschool parents, and tutors.
Purdue University
University of Arkansas
Eastern University
United States Air Force Academy
North Carolina State University
Taylor University
Sterling College
Geneva College
George Fox University
LeTourneau University
Spring Arbor College
Trinity Western University
Warner Southern College
Criswell College
Circleville Bible College
Manhattan Christian College
Ridgewater College
College of St. Rose
Lancaster Bible College
Colorado Christian University
Lee University
Bluefiled College
Spring Arbor College
University of Arkansas Ft. Smith
Azuza Pacific University
Cascade College
Clovis Christian High School
Help your students thrive and succeed
Complete the form to download your copy of our Book, Unlocking Student Potential with StudentKeys, and learn how to unlock your students' potential today!