DISC Certification Starting at $995
DISC Certification & Training Courses
Embark on a transformative journey through our DISC certification courses, where you will emerge as a PeopleKeys Certified Behavioral Consultant.
Our certification courses aren't just about learning; they're about helping you standing out in your industry, establishing yourself as the go-to expert. By becoming a PeopleKeys CBC, you will gain a deeper understanding of the DISC behavioral model, mastering the art of interpreting and administering DISC and our other behavioral assessments across a multitude of applications.
Gain an Expert Understanding of DISC to Achieve Your Goals
Whether you are a coach, consultant, manager, or HR professional, obtaining certification in DISC can provide you with expert understanding on how to effectively administer and utilize the behavioral assessment.
Elevate Your Professional
Development
Discover the power of DISC certification to elevate your expertise in your industry. Certification benefits professionals in fields such as
coaching
, management,
leadership
,
human resources
, training, and many others. 
Improve Team Dynamics & Communication
Unlock the potential of DISC to foster improved
team dynamics
, seamless communication, and enhanced collaboration within your organization. By understanding each team member's natural style, DISC becomes a catalyst for cohesive teamwork.
Empower Personal Growth & Understanding
Embark on a journey of self-discovery and personal growth with DISC certification. Gain valuable insights into your own strengths and areas for improvement while developing a deeper understanding of others.
Add Value to Your
Business Ventures
For entrepreneurs and business owners, DISC certification is a valuable asset to add to your coaching or consulting services. Embrace DISC to offer enhanced value to your clients and propel your business to new heights.
Resolve Conflicts Peacefully & Productively
Conflicts are bound to happen in any workplace. DISC enables you to effectively address
conflict management
within your organization. Discover strategies to navigate challenges and foster a harmonious work environment.
Make Better Recruitment & Hiring Decisions
Certification enables you to make informed hiring decisions by utilizing DISC to its fullest extent ensure a harmonious fit between job roles and personalities. Streamline your recruitment process for greater success.
Two Flexible Online, Self-Paced Courses
Elevate your understanding of behavioral analysis and become an expert DISC facilitator with PeopleKeys' flexible certification programs. From beginner to advanced, we'll guide you every step of the way through our self-paced, online courses.
Ready to Get Started?
Complete this form for any pre-purchase inquiries or to get invoiced.
Certified Behavioral Consultant (CBC)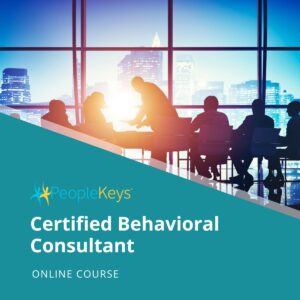 This DISC certification course is online and self-paced, with a focus on use in business applications, from coaching or consulting to hiring, talent management, sales, and customer service. This option is great for individuals who prefer to learn at their own pace and don't need access to live webinar-style instruction with a PeopleKeys Master Trainer.
Certified Behavioral Consultant Plus (CBC+)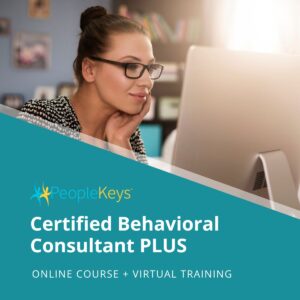 CBC+ includes the CBC self-paced, online course with the addition of two hours of live virtual webinar instruction with a PeopleKeys Master Trainer. This option is great for learners who prefer to have guided instruction with the ability to ask questions and engage with a live instructor to make the most of your DISC accreditation and learning.
Master Your Understanding of DISC Profiles
Embark on a transformative journey by diving deep into the world of DISC and Behavioral Analysis by enrolling in one of our renowned Certified Behavioral Consultant (CBC) programs. Whether you prefer self-paced learning or crave an immersive experience, PeopleKeys has got you covered.
The CBC offers self-paced mastery, while the CBC+ delivers an enriching journey, complete with 2 hours of live training alongside a PeopleKeys Master Trainer, where your curiosity knows no bounds.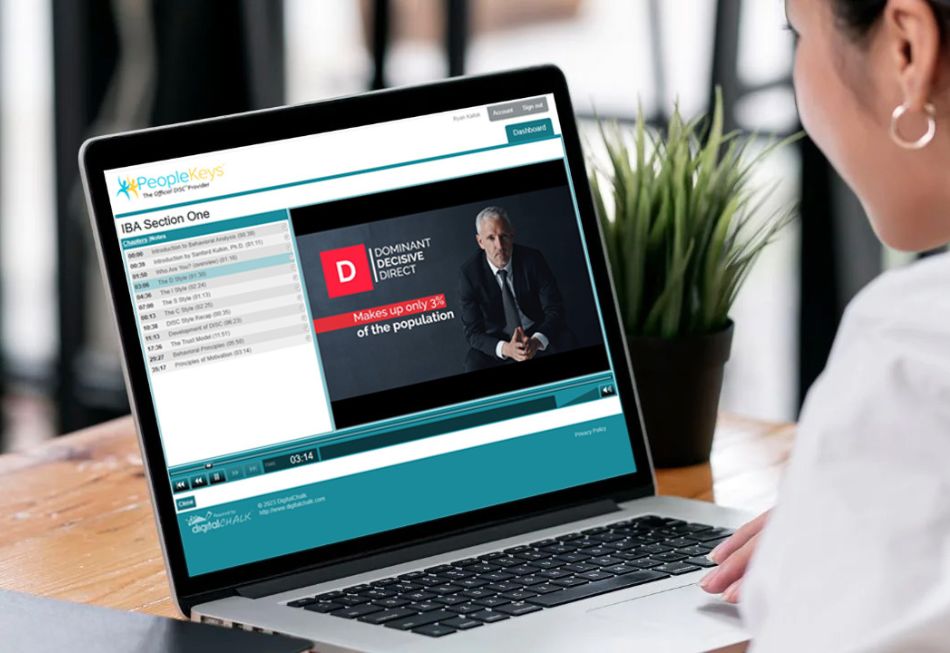 What Makes PeopleKeys Different?
What sets PeopleKeys apart? We're not just any DISC provider; we're the pinnacle of accreditation, offering patented assessments validated by leading institutions like Texas State University and Eastern University.
Our ISO 27001:2017 certification reflects our unwavering commitment to data privacy and security. Experience unbeatable value with competitive pricing for DISC facilitator kits and training, all while receiving exceptional customer service and high-quality course materials.
Enjoy the flexibility of 100% online, self-paced learning, shaping your DISC mastery on your terms. Join us and reshape your path to professional success.
Boost Your Credentials
Elevate your professional reputation with the esteemed recognition from leading organizations like IACET and SHRM. We're also proud to be affiliated with the Institute for Motivational Living.
As a distinguished member of International Accreditors for Continuing Education and Training (IACET), the successful completion of our Certified Behavioral Consultant (CBC) program grants you 3 valuable CEUs.
For HR specialists, our certification offers a gateway to earning up to 30 SHRM PDCs towards your recertification. These credits are attainable upon the successful fulfillment of our CBC course.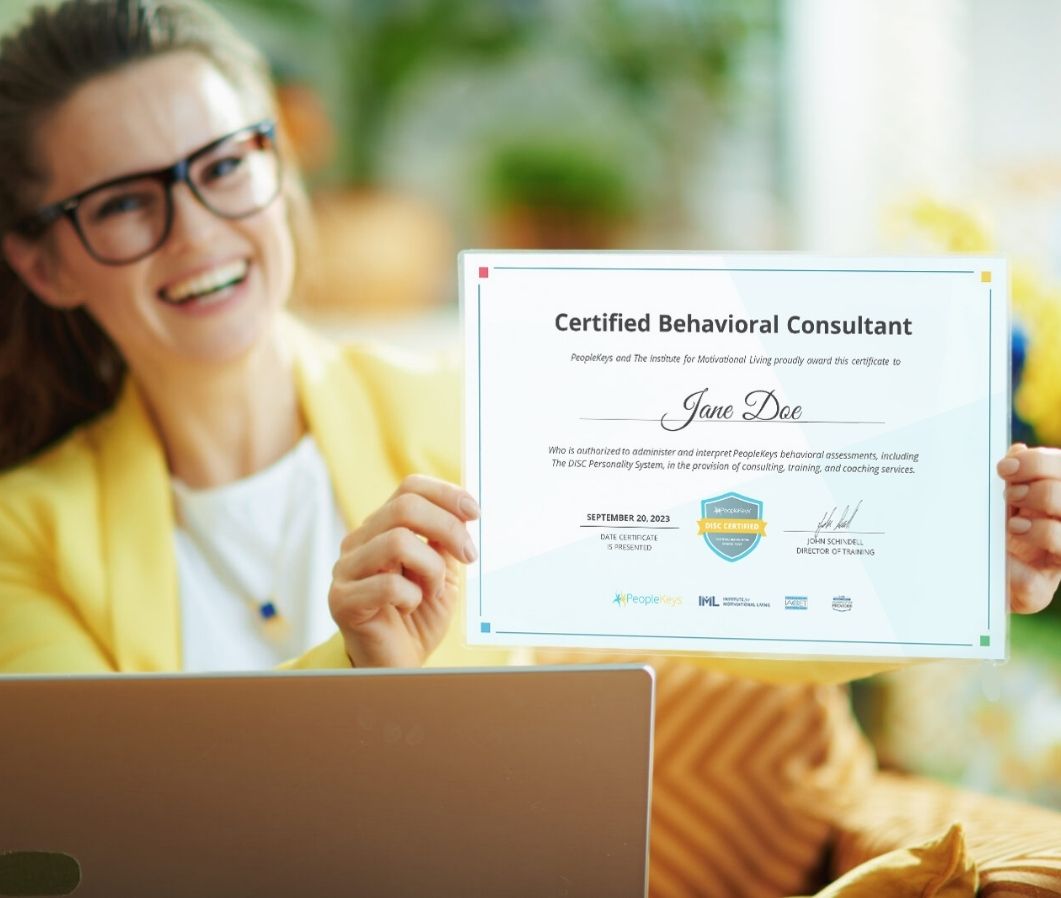 Exclusive PeopleKeys Benefits
When you choose PeopleKeys for your DISC certification journey, you gain access to a world of exclusive advantages designed to accelerate your success.
As a CBC graduate, you'll enjoy ongoing discounts on future purchases, a complimentary branded business account to enhance your professional image, and a treasure trove of pre-loaded DISC reports ready for your use.
Our user guides and training resources on PeopleKeys' assessments will empower you to excel in your practice.
You'll gain the ability to showcase your expertise with a printable certificate and digital badge that impresses clients and employers.
Benefits of Certification by Profession
As a coach or consultant, your goal is to help your clients achieve their objectives and succeed in their personal or professional lives. To do this effectively, it is crucial that you have the right tools and knowledge to guide them towards growth and change. Becoming a PeopleKeys Certified Behavioral Consultant provides you with a significant edge in your career, helping stand out as a credible and competent professional.
By becoming a PeopleKeys Certified Behavioral Consultant, you will gain in-depth knowledge of the DISC personality assessment model and its applications. This understanding not only enables you to assess and understand your clients' personalities, but also to tailor your coaching and consulting strategies to their individual needs and communication styles. This not only leads to more effective and efficient sessions but also a better understanding and relationship with your clients.
DISC certification from PeopleKeys can help you strengthen your credibility as a coach or consultant. By demonstrating your expertise and commitment to ongoing professional development, you are showing your clients that you are dedicated to providing them with the best possible service. This can help you increase your revenue by attracting more clients and retaining existing ones.
So, if you're looking to take your coaching or consulting career to the next level, PeopleKeys DISC certification is the way to go. With the knowledge and credibility it provides, you can set yourself apart from others in your field and help your clients achieve their goals more effectively.
As a manager, effective communication and working with a diverse group of people are essential skills. DISC certification by PeopleKeys provides the tools and skills to navigate these relationships with ease.
DISC is a behavioral assessment tool that offers insights into an individual's communication and work styles. By gaining certification, managers can learn about their own tendencies and those of their colleagues, resulting in improved communication and stronger relationships.
DISC provides managers with a common language to discuss behavioral styles with their team, leading to better communication and understanding. Obtaining certification can help identify and address potential conflicts, promoting a positive work environment.
PeopleKeys is widely recognized and respected in the business world. Becoming certified demonstrates a commitment to professional development and enhances a manager's reputation within the organization and beyond.
Whether you are leading a team, working with clients, or collaborating with stakeholders, this certification provides the knowledge and tools you need to succeed. 
DISC certification provides an in-depth understanding of the DISC behavioral assessment tool and how to use it to analyze and interpret behavior patterns in individuals. This understanding can help HR professionals to identify key strengths and weaknesses in their employees and tailor their management style to better align with each employee's unique personality.
In addition, the Certified Behavioral Consultant course by PeopleKeys helps HR professionals to build effective and efficient teams. By using the DISC assessment tool, HR manager can better understand how individual behavior patterns can impact team dynamics and make informed decisions on team building strategies.
Moreover, DISC Certification from PeopleKeys gives HR professionals the skills and knowledge they need to improve communication within the organization. By understanding how different personality types communicate and respond to different situations, HR professionals can develop more effective communication strategies and resolve conflicts in the workplace.
See What Others Say About PeopleKeys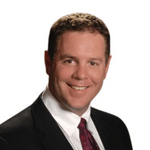 Aaron Behunin
Executive Coach at CertainPath
PeopleKeys certification courses are a great investment. Understanding your people's dominant fear, motivators, and identifying when their mask is up is helping my clients improve relationships.
Sandor Lemstra
Director / Owner, DISC Factor B.V., The Netherlands
PeopleKeys helped me to realize my dream with their knowledge and their (amazing!) accurate and positive assessments. As a result, I now run my own multi-million dollar training company specialized in DISC and other PeopleKeys related products. Others will sell you their products like DISC; PeopleKeys helped me to realize my dream.
Frequently Asked DISC Certification Questions
How much time does it take to complete the CBC course?
Our CBC Course is estimated to take approximately 30 hours on average to complete all coursework, which includes 8-10 hours of video training, workbooks, case studies, study materials, and exams. Additionally, the CBC Course includes a package of assessments to use with family and friends during your certification training, with the intention of gaining practical experience interpreting graphs and reading reports. The course, however, is entirely self-paced, so more or less time can be used as needed, with many of our customers completing the course over a weekend.
Do I really need certification to apply DISC?
The short answer: no. You don't need to be certified to administer or interpret DISC.
However, adding certification in behavioral analysis to your credentials will show you have an in-depth understanding of people and their predictable behavior as to why they do what they do. At the end of the course, you will have a deeper appreciation for DISC theory and application.
How do I receive my CEU credits?
You may request your CEU transcript after you have successfully completed the course. There is a prompt within the course asking if you would like to make this request.
Will I have access to this resource after it's been completed?
Yes, you will be able to login to each course, even after the courses are completed.
Can I take the proficiency exams more than once?
Both proficiency exams requires score of 80% or higher to pass. If you receive a score lower than 80% on either exam, you can review the course and take it again. There is no limit on how many times you can take the test.
In addition to English, are PeopleKeys DISC certifications offered in other languages?
Absolutely! Our DISC certification course is also available in Spanish and French. When ordering, be sure to specify you are interested in our CBC International course, in either Spanish or French.
DISC Certification Blog Posts
5 Ways DISC Certification Increases Confidence and Leadership Skills
Learn five ways DISC certification can help you improve your personal confidence and leadership skills in both business and personal relationships.
Why DISC is the Right Team Building Solution for Your Needs
Learn some reasons why the DISC assessment is the right tool for leaders to use in team building.
Management Styles in the Workplace. What Style are You?
Your management style can influence how you manage and interact with your employees. Use the PeopleKeys 4D assessment to become a better leader.